The federal Government has lifted ban on Schools and activities are to begin with only the examination classes excluding Higher Institutions.
The NCDC has given a breakdown on cases in various states and I would use this to analyze states that are likely to resume.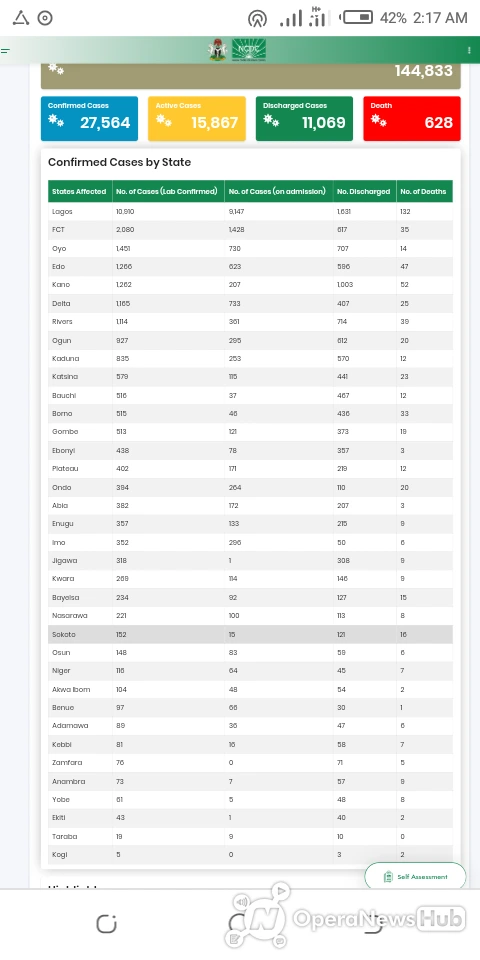 Photo credited to Covid19.Ncdc.gov.ng
Please note that this break down and analysis below is my opinion and its based on the results given by the Ncdc. These States will be chosen based on the NCDC statistics on cases on admission and cases discharged are as at when this statistics was published.
Kogi with 5 active cases, 3 recovered and 0 on admission
Zamfara with 73 active cases, 71 recovered and 0 on admission
Jigawa with 318 active cases, 308 recovered and only 1 on admission.
Ekiti with 43 active cases, 40 recovered and 1 on admission
Anambra with 73 active cases, 57 recovered and 7 on admission
Taraba with 19 active cases, 10 recovered and 9 on admission
Sokoto with 152 active cases, 121 recovered and 15 on admission
Kebbi with 81 active cases, 58 recovered and 16 on admission
Adamawa with 89 active cases, 47 recovered and 36 on admission
Bauchi with 516 active cases, 467 recovered and 37 on admission
Borno with 515 active cases, 436 recovered and 46 on admission
Yobe with 61 active cases, 5 recovered and 48 on admission
Akwa-Ibom with 104 active cases, 53 recovered and 48 on admission
This analysis was based simple selection of states that has cases on admission less than or equal to 50. It was arranged in chronological order.
We should expect that the state government in these states are likely to resume school activities next week as the number of cases on admission are manageable and can be contained with strict safety rules by the various state government.
Please Stay Safe. Like, Comment,Share and Follow me for more interesting updates.