Back in the 80s, on-screen managers became crucial aspects of WWE TV and the likes of Bobby "The Brain" Heenan, Miss Elizabeth, and Jimmy Hart wowed the fans with their flamboyance and charisma. As years passed, we began witnessing more and more wrestlers being managed by established veterans or the ones who were well versed in the inner workings of the business. Paul Heyman and Jim Cornette are two incredibly successful managers who have helped put over a string of Superstars throughout their careers.
WWE has had its fair share of legendary female managers over the past few decades. In this slideshow, we will be taking a look at five WWE Superstars, who not only had on-screen female managers accompany them to the ring, but they also married their respective managers in real-life.
5 Rusev and Lana
Rusev made his way to WWE's main roster in 2014, along with his manager, Lana. The duo was paired during Rusev's NXT stint, and they remained together for the majority of Rusev's main roster run. The two were involved in a string of storylines over the past 6 years, with the likes of Dolph Ziggler, Roman Reigns, and Bobby Lashley. The Lashley angle was the last storyline that Rusev was a part of before he was released by WWE in April.
Lana initially portrayed the character of a ruthless, no-nonsense manager, but later ended up tweaking her persona. She split with Rusev for a short period during his feud with Dolph Ziggler and joined forces with the latter. The storyline with Lashley saw Lana leaving Rusev for Bobby and marrying him on WWE TV.
Rusev and Lana had grown closer during their time together in WWE NXT. On July 29, 2016, he and Lana got married.
4 Goldust and Marlena
Terry Runnels made her WWE debut in 1996 and donned the moniker of Marlena. The character was based on the legendary Hollywood actress, Marlene Dietrich. Her gimmick was of someone who's largely unconcerned of what's going on around her. Smoking a cigar was an integral part of her persona. Runnels managed Dustin Rhodes during her stint in WWE, who was portraying the character of Goldust at the time.
Dustin was already married to Marlena at the time. The couple got married in 1993 when they were in WCW. After being together for 6 years, they separated in 1999. Goldust feuded with Triple H during his WWE stint alongside Marlena. The rivalry saw Chyna being introduced as Triple H's bodyguard after she attacked Marlena at ringside at In Your House 13: Final Four.
Runnels and Goldust were then involved in an angle with Brian Pillman, but the latter's death in the middle of the storyline forced WWE to scrap it. The alliance between Goldust and Marlena ended during this angle, and he later revealed Luna Vachon as his new manager.
3 Randy Savage and Miss Elizabeth
Back in 1985, Randy Savage made his debut in WWE and soon introduced Miss Elizabeth as his on-screen manager. The duo soon became one of the most popular acts on WWE TV, and Savage steadily climbed up the ladder towards the ultimate goal: the WWE Championship. Elizabeth was by his side when he won the WWE title at WrestleMania 4. The association ended a year later, and he replaced Elizabeth with Sensational Sherri.
Savage and Elizabeth reunited at WrestleMania 7, following his loss to The Ultimate Warrior. In real life, Elizabeth and Savage were married. They tied the knot in 1984 and remained together for eight years. Their on-screen wedding was promoted heavily by WWE for SummerSlam 1991. Savage and Elizabeth later reunited for a short while in WCW, before she turned on him and joined forces with Ric Flair. She later aligned with Savage again and the duo had a brief feud with DDP and Kimberly. After a short run with Savage, Elizabeth again left him and joined nWo Hollywood.
2 Marc Mero and Sable
Marc Mero was an active competitor in WCW during the first half of the 90s. He went by the name "Johnny B. Badd" during this run. Following his WCW exit, Mero signed a deal with WWE and debuted as a babyface. He soon adopted the moniker of 'Wildman', and his wife Sable began accompanying him to the ring, as his manager. In 1997, Mero suffered an injury that kept him out of action for six months. He returned in October and slowly began turning heel due to his jealousy towards Sable, who had become quite popular among the WWE Universe during his hiatus from the ring.
The rivalry culminated in an Intergender match at Over The Edge 1998, where Mero defeated Sable, leading to her temporary exit. By 1999, both Sable and Mero had left WWE. The duo had gotten married in 1994, around two years before Mero's move to WWE. Soon after their separation in mid-2003, they got divorced. Sable later tied the knot with WWE veteran Brock Lesnar.
1 Triple H and Stephanie McMahon
Triple H made his way to WWE in 1995, after a brief stint in WCW. Dubbed as Hunter Hearst Helmsley at the time, Triple H had a forgettable WrestleMania debut in 1996, where he was squashed by The Ultimate Warrior. Almost 25 years later, Triple H is regarded as one of the greatest Superstars in WrestleMania history. By the end of 1999, Triple H and Stephanie McMahon had formed the McMahon-Helmsley faction following Triple H's win over Vince McMahon at Armageddon 1999.
Stephanie started managing Triple H and accompanied him to the ring on various occasions, most notably in the main event of WWE WrestleMania 2000. The match was billed as "A McMahon in every corner". Triple H came down to the ring with Stephanie, while the other members of the McMahon family managed his opponents: The Rock, Mick Foley, and Big Show. Stephanie later managed Kurt Angle as well, following her love triangle storyline with him and Triple H. On the road to WrestleMania 18, Stephanie joined forces with Chris Jericho and accompanied him to the ring for his match against Triple H at WWE WrestleMania 18. McMahon and Triple H got married in late 2003, for which Stephanie was written off TV following a year-long stint as SmackDown General manager.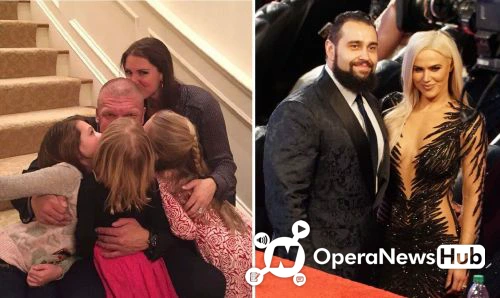 Mr Legit Source is a Computer Programmer. He loves computer programming and he is also a web designer and a developer. Mr Legit Source is a Senior Content Writer of Legitsource.com.ng