According to the screenshot below; a company named OCE-1, who will believed was setup by the FBI to nailed Hushpuppi and his criminal associate, Woodberry.
See the screenshot that revealed how Woodberry chatted with FBI without knowing: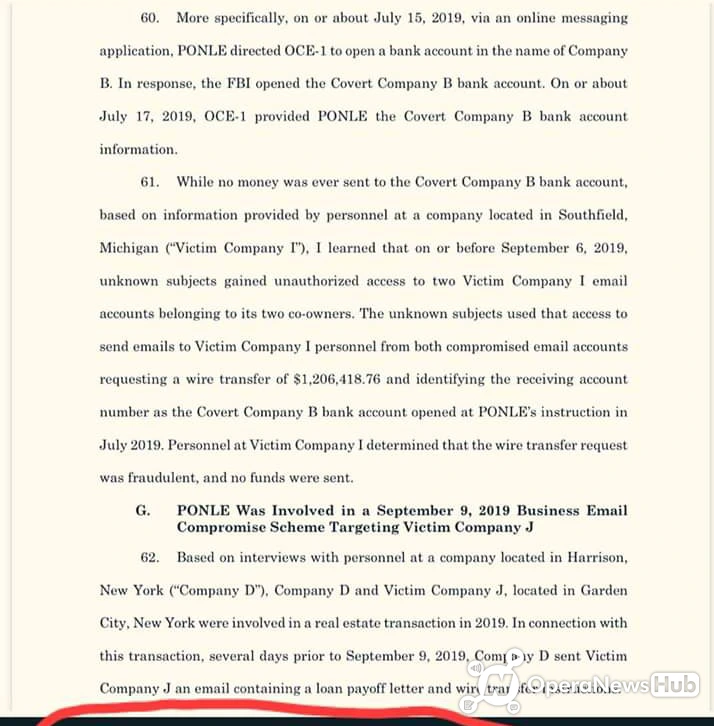 The above screenshot released by FBI, shows details on how Ponle popularly know as Woodberry, had chatted with FBI, who disguised as OCE-1.
Ponle was reportedly involve in a Business Email Comprise Scheme, targeting Company J (letter J was used as a symbol to connotes the name of the Company, Woodberry was interacting with).
According the screenshot, Woodberry via "online messaging application," gained unauthorized access to the victims email accounts, and used the access to send emails requesting a wire transfer of more than #1million, and identifying the receiving accounts number, which was opened by Ponle, who will call by the name Woodberry.
So, it happened that it actually was the case with Hushpuppi and Woodberry. The FBI has been fooling them and the fools thought they were chatting with their victims.
Some Africa yahoo boys are currently chatting with FBI agents thinking dey are victims. They will send them the money they need, and use that as a bait to land them in jail forever.
This is why I warn NIGERIAN Scammers to give up their fraudulent life. I say Nigerians, because most Nigerian Scammers are extremely dumb.
If you are a fraudster, I want you to know that among your victims, two of them who are paying you the most are agents of the FBI. They are coming for you someday. it's turn by turn.