Premier League Matches, Their Results and Premier League Table.
Welcome to Worldwideupdate. We write articles on Sports, Health issues, entertainment and Society news. Please, you can partner with us, by clicking on the Follow button, so as to see more of what we write. Thanks.
Let us now go to premier League today's game and results, including premier League Table.
Today's Premier League Match and Result.
Manchester United Vs Southampton.
Manchester United Played 2 – 2 Draw with Southampton.
* See Manchester United Lineup and Formation For Today's Match:
D. De Gea, V. Nilsson Lindeloef, H. Maguire, L. Shaw, A. Wan Bissaka, P. Pogba, M. Rashford, B. Fernandes, M. Greenwood, Matic, A. Martial.
Manchester United Formation : 4 – 2 – 3 – 1.
See Southampton Lineup and Formation For Today's Match :
A. McCarthy, J. Stephens, R. Bertrand K. Walker Peter, J. Bednarek, O. Romeu, J. Ward Prowse, S. Armstrong, N. Redmond, D. Ings, C. Adams.
Southampton Formation : 4 – 4 – 2.
Match Analysis.
S. Armstrong scored for Southampton, Assisted by N. Reymond, to give them the Lead.
M. Rashford Equalized for Manchester United, assisted by A. Martial.
A. Martial makes it 2 – 1 for Manchester United, assisted by B. Fernandes.
M. Obafemi scored for Southampton, to keep the score level at 2 – 2.
Full Time : 2 – 2.
Ball possession : Manchester United 49%, Southampton 51%.
Shot on Target : Manchester United 4, Southampton 5.
See The Current Premier League Table, After Manchester United Draw Today With Southampton.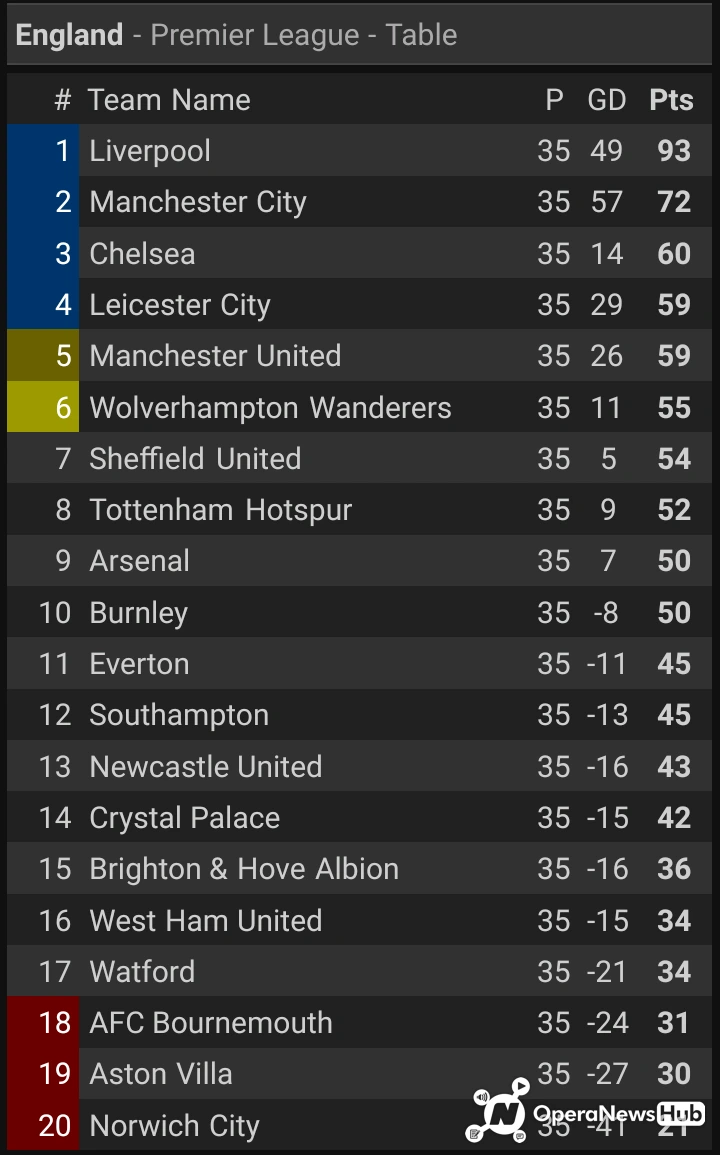 Notwithstanding that Manchester United are currently in the Fifth position, but it is likely that they won't make it to top 4, These are the Teams that are likely to make it to the top 4;
1. Liverpool.
2. Manchester City.
3. Chelsea.
4. Leicester City.
Thanks for Reading.
Don't forget to Comment,like and share with your follow game lovers.
And also remember to comment @ legitsource.com.ng, so as to see more of our write-up on Sports, Health Issues, Entertainment and Other Society Matters. Your Satisfaction is our Joy and Our Number one priority. We care about you. Thanks.
Hope you enjoyed our write-up.