Do you know some student failed English language every time they wrote WAEC/NECO and other exams. If you ask examiners they will tell you that a very substantial portion of essays marked are letter(formal or informal), the reason is that students trend to regard letter-writing as a way out as opposed to the monumental task of crafting other brain-bursting essays inside the exam hall. Is it due to ill preparation, laziness,tension and temporary paralysis of brain leading to inability to think of relevant points to put together for a good mark or score?. If yes……
Follow me up in all my articles, likes and share with your love one's.
Here is how to write a good letter(formal and informal) in your exam and get good mark: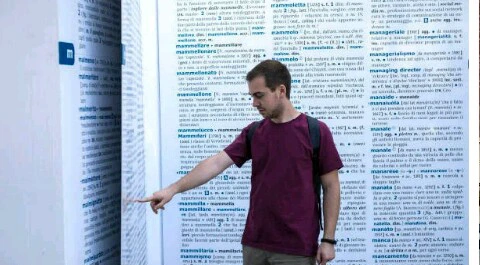 FORMAL LETTER.
Formal letter: These are official or business letters we write to government official,ministries, public and private organisation. They are also the articles we write to the editors of magazines, journals etc.
i. The writer's address: The writer's address is normally written at the top hand right Conner and the recipient address must be written at the left hand side, below the writer's address.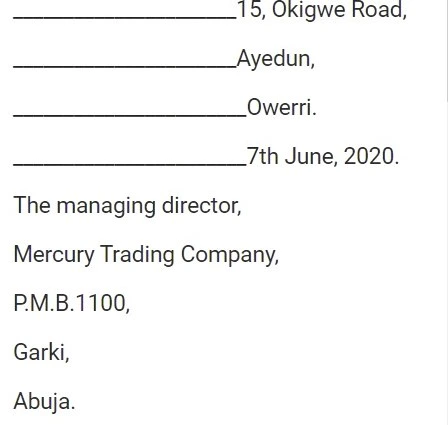 Note: 1. your address must be in straight or slant form .
2 Always watch your punctuation marks to avoid misuse in your address.
ii. The Date: It must be fully written as follows: "5th February, 2020" or "February 5, 2020".
iii. Salutation: The conventional salutation of formal letter are strictly "Dear sir" or "Dear madam".
iv. Tittle of the letter: The tittle of the letter is compulsory in a formal letter .example:- APPLICATION FOR THE POST OF AN ACCOUNTANT.
Note: when ever you to underline your tittle, do not use capital letter.
v. The body: the body of the letter must be arranged chronologically and avoid grammatical errors.
vi. Subscription: The general subscription for formal letter is 'Yours faithfully". Follow by the signature and full name of the writer.
Note: Avoid using capital" F" instead of small "f" in our subscription, don't forget the writer signature and full name.
EXAMPLE OF A FORMAL LETTER WITH FULL FEATURES.
Remember to follow me up and share with your friend.
QUESTION: As a response to an advertisement made in one of the national newspaper by a popular trading company in your country, write an application letter to the company for the post of accountant.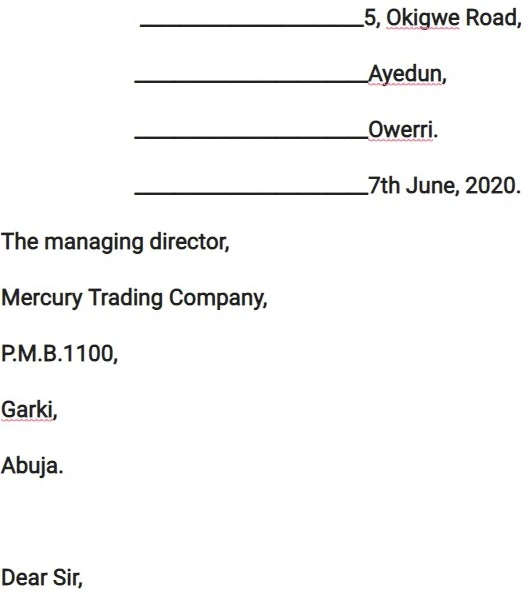 APPLICATION FOR THE POST OF AN ACCOUNTANT
I wish to apply for the post of an accountant in your company as published in "The Tribune" newspaper on Monday 6th of this month.
I am twenty-eight years old. I had both my primary and secondary education in Ibadan. I later proceeded to the University of Ilorin where i received the Bachelor of Science in Accountancy.
I did my National youth service corps in Universal Trading Company Kano where i served as an assistant accounting officer in the Management Accounting Department. I am currently a member of the Association of Accounting Technician (ATS).
The following people are being presented to act as my referees: Dr.A .A. Fayemi of University Ilorin, Pastor E.I of winners chapel osun-state and Mr. John Sunday of Universal Trading Company Kano.
The photocopies of all my credentials are enclosed with this letter and the original copies will be made available if i'm invited for an interview.

NOTE: You may be required to present the curriculum vitae(CV) in your letter.
Write down your questions in comment box and watch out for my next article on Informal letter.