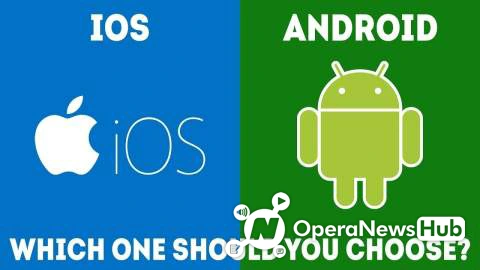 Do you know what is the difference between Android and iPhone, how different the two smartphones are from each other.
Whenever we buy any goods, we compare it with other goods so that the goods we are buying will be found in good quality with low price. In the same way, when buying mobile, we check different mobile which fits in our budget and we buy that smartphone in which we get more features. Thousands of mobile phones are launched every year, in which we get more than more features, in which we get confused which smartphone will be better for us.
Similarly, people have many questions and confusion about Android and iPhone, people want to know what is the difference between the two. There are many differences between the two, but there is one thing common and that is both are products of American company and both companies are world famous Android where Google product is there whereas iPhone is the product of Apple company. You will get Android smartphones from a lot of company, whereas the iPhone makes only Apple company.
If you are thinking of getting a smartphone then you will get a lot of information about both here, after which you can choose the best smartphone for yourself. By the way, both Android and iphone are smartphones, but there are some differences that make them different, so let's know what they are.
1. Android phones run on Google's operating system Android, while iPhones run on Apple company's iOS operating system, meaning both operating systems are different.
2. In iPhone, you do not see the problem of overheating and hanging, whereas in Android phones, the problem of overheating and hanging continues.
3. Android makes many phones in the world, whereas on the other hand, iPhone makes only American company Apple.
4. The Apple company manufactures the hardware and software of the iPhone itself and applies it to the iPhone, while the software and hardware installed in Android phones are made by different companies.
5. The latest operating systems of Android do not work on older Android phones while the latest operating systems of iPhone also work on older iPhones.
6. If something goes wrong with your iPhone, then you can fix your iPhone by going to the nearest Apple Store, while in Android you will have to go to the store of the same company that has your Android phone.
7. iPhone is also known for its excellent camera quality, its cameras also outperform DSLR, whereas in Android mobile you will get average camera quality compared to iPhone.
8. The Apple company offers updates from time to time for its iPhone mobile users, while on the other hand, there are very few companies in Android that offer updates.
9. The operating system of the iPhone is much better than the operating system of Android because it takes a lot of time to update the app in Android, while there is no such problem in updating the app in the iPhone.
10. If you have an iPhone, then you get a premium feel, it shows your status, whereas nothing like this is available in Android.
11. Android phones are very cheap compared to iPhone, while the price of iPhone is very high, due to this, most people prefer to take Android mobiles.
12. You can customize the Android phone in your own way like changing the homepage or launcher, changing the icon and changing the lock screen, etc. while in iPhone you cannot change the way you like.
13. Rooting the iPhone is quite difficult, it is not easily rooted, whereas you can easily root the Android phone and after rooting you can customize the mobile as yourself.
14. If you look at the number of mobiles in the world, then Android comes in the first place because many companies make Android phones, whereas the number of iPhones is very less compared to Android due to iPhone making only Apple company.
15. In iPhone, you can install only a few apps and games whereas in Android phones you can install about 2 million apps and games.
16. The number of apps and games in the app store of Android is much higher than the app store of iPhone. In Android, you will get all kinds of apps and games for free. Whereas in the iPhone, you have to pay for some apps and games.
17. The emphasis is on making long battery backup smartphones in Android and in this many companies have launched their more battery powered mobile phones, so in Android you get the option of long battery backup while iPhone In this, you must charge your mobile once a day. Long battery backup option is not available in iPhone.
18. It makes the iPhone as an Apple company, so it takes a lot of time to launch its new model, while Android makes a lot of companies and almost every month, a new model of Android is launched with new features.
19. In the case of multitasking, Android is far ahead, like in Android, you can listen to songs and browse on the Internet, that means you can do a lot of work in Android at a time, whereas in iPhone, multitasking option is not available in this phone. You can do only one thing at a time.
20. Talking about the design of both the smartphones, all the models of the iPhone are the same, by looking at the model, it is not known which model of the smartphone is, whereas in Android, you can guess the model by looking at the phone.
So now you must know what is the difference between Android and iPhone. Here we have told you a total of 20 differences. After knowing these, you must have understood the difference between iPhone and Android quite easily. By the way, iPhone is the first choice of rich people because it shows the status of the logo, whereas the first choice of common people is Android in which you get a lot for a low price.
Mr Legit Source is a Computer Programmer. He loves computer programming and he is also a web designer and a developer. Mr Legit Source is a Senior Content Writer of Legitsource.com.ng